Sapa Train will take you to the 2th wonderland in Vietnam. A number of travellers considered that Sapa brought to them the best memories about the gifted beauty of nature and people here.
1.New ticket price in Sapaticket.info
This ticket quotation would be changed based on the reality. Any changes of train schedule would be determined by weather conditon and the amount of travellers. Ticket price would be adjusted to fit market fluctuations.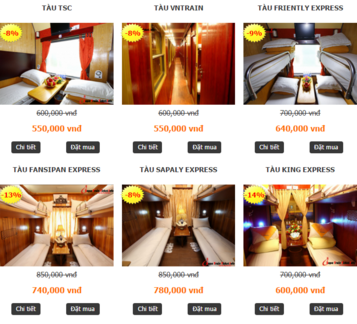 List of cheap Sapa Train ticket
Let's start your unforgettable journey with Sapa Train today!!!
From the North of Vietnam

From the South of Vietnam

Rent a coach to Sapa:

Suitable for a large group of people. The coach will take you to the hotel and the visit location as order. There are many coach rental places. 2 days rental fee for 12-16 seats coach is at about 6,5 million vnd ( Include toll, gasoline and tips for drivers)

Plant to Sapa:

Highest price but fastest way to get to Ha noi. Total flight time ( include procedure) from HCM to Ha noi is approximately 5 hours. Flight cost is at about 1 million/ person




Train to Sapa:

There are many choices of seats and cabins: soft beds, hard beds, soft seats, hard seats,...You can buy these tickects at Hanoi station or book at Sapatrainticket.info for best services ( there will be car, taxi wait for you at Sapa station)

Train to Sapa:

You can buy tickects to Hanoi from HCM station or book at Sapatrainticket.info for best services ( there will be car, taxi wait for you at Sapa station)

Cars to Sapa:

Drive straight to Sapa and non stop over night like the trains. However, heavy rain will be the big problem because there are many passes and hills in Sapa

One way Car ticket price is at 230.000-280.000/per person, start at My Dinh, Luong Yen or Gia Lam ( Ha noi) bus stop. Arriving in Sapa after 8-9 hours.

Cars to Sapa:

Cars will start from Western Bus Stop. Time for driving is about 60 hours, much longer than taking Sapa Train beause of eating time.

You should choose Sapa Train for your comfort and safety. Further more, the naturally beauty along the road will bring you many impressions

Bus to Sapa:

Best way to save your money. You can take a bus along the avenue, about 10.000/ ticket but you have to walk long way and wait for the bus.
Please be noted that you can buy ticket for Ha noi to Lao Cai very easy, however, buying Sapa Train ticket from Lao Cai to Ha noi is a different story, please be well prepared buy booking 2 ways at the beginning.
Main source: sapatrainticket.info

Why do you have to search hundred of unproffessional websites then worrying about the price of tickets ?Let's try SapatrainTicket.info one time, you must be surpriced about our price and our great services.
Do you have any question about Sapa Train?
CALL NOW: 0906.80.90.95 - 0989.66.12.64 (Mr.Trường)
FOR MORE INFO AND GET THE CHEAPEST TRAIN TICKET IN VIETNAM
SapaTrainTicket.info
Adress: 42 Mã Mây, Hoàn Kiếm District, Hà Nội
Tel: 04-3926.0045 -3926.0046
E - mail: sapatrainticket@gmail.com
CAll: (+84) (0) 906.80.90.95 - 0989.66.12.64 (Mr Trường)
to get best price and Service
Add: 42 Ma May Str, Hoan Kiem, Hanoi, Viet Nam
Tel: (84-4)3926.1687 - 3926.1688
E - mail: truongfunny@gmail.com